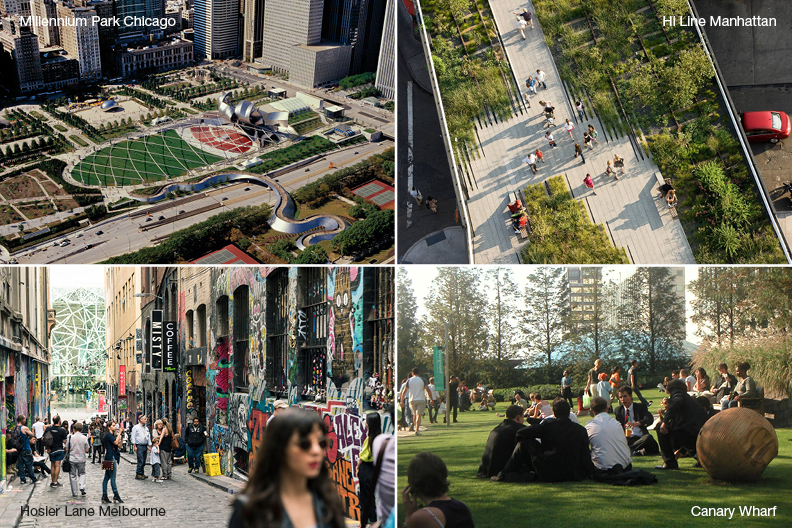 We're all aware of the importance of public spaces. These spaces are available to everyone, providing a shared and equal realm for all members of the community to come together. Some public spaces prioritise connecting with nature, while others bring art and culture to the forefront. Whatever the purpose, public spaces are an important part of many places.
Recognised and well used public spaces include:
Parks and green space
Plazas
Sculptures and street art
Blue space
Pedestrian pathways
Town squares
Indoor spaces (atriums etc)
Community centres
Outdoor benches and picnic areas
Street cafes
Urban gardens
Rooftop terraces
"Great public places contribute to community health – whether socially, economically, culturally or environmentally." – Project for Public Spaces
Many public spaces are deliberately planned and implemented to enhance engagement with a place. However, there is great value in identifying 'hidden' opportunities to create an enriching public space.
Spaces between buildings, or even new communal spaces within buildings can be transformed into valuable public space.
Why it's a good idea to miss out on lettable space
It might initially look like financial sense to build on every square inch of land, or to try and turn every square foot of a building into lettable workspace. However, landlords are recognising that, in order to create a place with real community and genuine engagement, bricks and mortar just isn't enough.
In fact, having additional public space for tenants or residents to enjoy will ultimately be much more profitable than using that space to build on or occupy on a traditional basis. People increasingly search for experience, and a range of choices and aesthetics to complement any build will help attract people to the space, increase dwell time and ultimately strengthen their connections to the place.
It's about creating opportunity for engagement, collaboration and innovation within building and workplace environments that is driving the attraction and retention of talent business must achieve to succeed.
Public space is designed to complement the surrounding buildings
The buildings surrounding any public space ultimately define how people will use and interact with the space. For instance would a professional financial district require a skate park in the middle of their office buildings? Unlikely.
Public space provides an ideal opportunity to really establish the building's core purpose. Our client, Exchange Quay, has utilised the space between each buildings to create vibrant areas of public space accessible by all workplace residents. With benches and seating areas, pockets of green space and plenty of wide-open space creating an environment where residents are welcome in a relaxed working atmosphere, where well-being is at the core of the space.
We have animated the buildings and spaces through a programme of Place Activation across fitness, wellbeing, education, social, fun and entertainment.
"A good city is like a good party — people stay longer than really necessary, because they are enjoying themselves" — Jan Gehl
More than just extra room to breathe
Though public space undoubtedly helps to increase wellbeing by providing additional spaces for people to relax and enjoy, there are further ways to ensure the space is utilised.
Pop-up events help bring purpose to a place, a temporary activation that alerts attention to the public space and generates footfall. These events require careful strategy and planning but providing further use for public space is massively beneficial for everyone – from the community to landlords.
A place cannot be successful without people – and people won't simply flock to an uninviting space. It's catch-22 that many landlords and developers face, trying to anticipate the needs of the community in order to create public space that will attract the masses. A programme of regular activity complimented by pop-ups and events allows placemakers to work flexibly with the evolving needs of the place's community.
Whatever the programme and initiatives however, they have to meet the needs of the community, which is why one of the first steps we take is community engagement to understand our audience, their wants and desires. Only then can we create a Placemaking strategy and Place Activation programme that delivers on all parties objectives.
We can help maximise your space
As Placemaking experts, we have the knowledge to help visualise a space and its impact on the community – from adding insight to the very first blueprint through to creating a place activation strategy. Get it touch to find out how we can help you.
Picture:
Hi Line Manhattan, Millennium Park Chicago, Hosier Lane Melbourne, Canary Wharf London